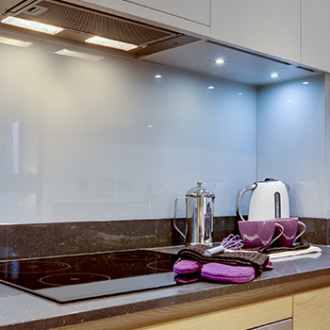 Elegence & Hygiene
Splashback glass has come a long way over the last 15 years and is now one of the most commonly used products within the domestic and commercial building industries.
Providing a hygienic surface that is easy to clean that can be designed to almost any colour or shape making Splashback one of the most versatile products within the glass industry.
A few examples of applications for Coloured Glass Splash backs are Glass wall panels, Bathroom panels, Kitchen Glass Splashbacks.
More hygienic than tiles due to the fact there are no grout lines involved that have a tendency to hold onto bacteria.

Bespoke Glass Splashbacks for anywhere you like in Any Colour you like!
We can Supply & fit Any Colour Glass splash back or panel to any space. Mostly commonly known for being fitted as Kitchen splashbacks in Low iron Toughened or Toughened Laminated for extra safety Public spaces etc. Did you know Coloured glass panels range From 6mm to 35mm thick? Back painted glass in any shape, size or colour. Template service available. Please feel free to contact us for a free visit to your property with samples and advice
All types and sizes of Double Glazed window Hinges replaced
You can now have absolutely any image digitally printed onto glass with state of the art technology allowing us to produce beautiful pieces of what we call art that can be applied anywhere. Please feel free to click above for more info.
*Ultra Glass LED Splashbacks can light up any space. Give your space that exclusive look
Ultra Glass LED Splashbacks are a great way to light up spaces. These panels can be applied almost anywhere giving that exclusive and futuristic look. Perfect for Bars and Night clubs. The perfect touch to your project. Please feel free to click above for more info.

0800 193 0313
Call us today for a free no obligation quote